I've published the following text before at the bitcointalkforum.
I'd like to report a few technical considerations that led to our Obol wallet.
Obol is an evolution of a technique that involved breaking a plain nylon coin in half to access an inner code.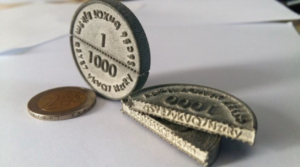 The coin would have been a possible alternative to the metal piece with paper code plus adhesive seal.  As is well known, the latter could have been spied out unnoticed back in 2013 (CoinDesk, Aug 13, 2013 "Defcon hackers crack physical bitcoin coins").
Unfortunately, this predecessor showed that the code, which was formed as a raised 3D font, could be seen very well in the CT scan.
Further, the token also had to be quite large in diameter for the elongated alphanumeric code sequence to be printed in sufficient quality. I'll post an image/link when I find it. Anyway, it was possible to use additive manufacturing for sealed codes years ago, provided you liked big Mickey Mouse tokens and CT scans of the private key didn't worry you.
https://obolite.com/wp-content/uploads/2021/08/logo-obolite-300x138.png
0
0
IBode
https://obolite.com/wp-content/uploads/2021/08/logo-obolite-300x138.png
IBode
2022-06-22 15:40:45
2022-06-22 16:14:50
The Story of Obolite 1